Cine Monitor HD X-SBL
ANTI GLARE BONDED SCREEN INCLUDING GYRO-STABILIZED VIRTUAL HORIZON 2
Cine Monitor HD X-SBL

2000 NITS (FOR 6") AND 1500 NITS (FOR 8") ANTI GLARE BONDED SCREEN INCLUDING GYRO-STABILIZED VIRTUAL HORIZON 2
Features
3G HD/SD SDI, HDMI, analog, YPrPb/RGB
Lemo 8pins connector
1.5kg/3.3lbs, well balanced
Ergonomics, cables run down
User framelines
Tally through Lemo 8pins, GPI or SDI REC trigger
Avenger Leveler (the original Virtual Horizon)
And more...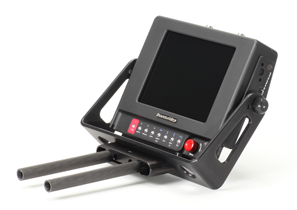 Inputs / outputs
3G HD/SD SDI - HDMI - composite - YPrPb - RGB
Measurements and exposure monitoring
Waveform Y, R, G, B, RGB, YPrPb, YRGB (3 sizes: small, medium, full screen)
Histogram - vectorscope
User adjustable false colors - low- or high- light details emphasis
Color, gammas and display adjustments
Factory color calibration preset D56/D65 - backlight dimmer
Input profiles: LogC, S-Log, S-Log2, Canon-Log, Rec709
Brightness, contrast, saturation, hue
Aspect ratios - anamorphic desqueeze - special scaling for Alexa 4:3
Color, black & white and green modes - blue check
Tools
Focus helper - zoom pixel to pixel - /i and LDS LensReader + Cine Tape reader
Markers (safe area, 4:3 and 14/9) - crosshair - user framelines
On-screen timecode - Tri-color led and multiple on-screen tally - SDI audio monitoring
Battery and power informations - Images flips & monitor reverse
Includes VirtualHorizon2 with inertia & shock compensation
Optional VirtualHorizon3
Cine Monitor HD X-SBL
The 4:3 screen is partitioned in 2 areas: the picture zone displays the picture in 16/9 format whereas tools and measurements are displayed in the remaining free area of the screen.
CineMonitorHD Evolution can be set in 2 operating modes either for outdoor viewing or color monitoring. In Full Bright mode, details in both the dark areas and highlights are maintained even in full sun without hood.
Featuring Transvideo's proprietary technology with RealFrameRate processing (RFR™), the CineMonitorHD Evolution provides true monitoring of existing in-camera images with 1 -frame delay or less.
Transvideo's processing technology displays crystal clear images without aliasing or motion-blurs.
Start with the customer – find out what they want and give it to them.