Stargate Monitor

NEW GENERATION OF 7" HIGH-END MONITOR
AN ESSENTIAL PRODUCTION TOOL FOR DIRECTORS AND FOCUS-PULLERS
Stargate Monitor
AN ESSENTIAL PRODUCTION TOOL FOR DIRECTORS AND FOCUS-PULLERS


NEW GENERATION OF 7" HIGH-END MONITOR 3G HD/SD - SDI LCD MONITOR - RECORDER WITH 1920 X 1080 FULL HD DISPLAY 800 NITS SCREEN LUMINANCE
AN ESSENTIAL PRODUCTION TOOL FOR DIRECTORS AND FOCUS-PULLERS
More than ever the monitor-recorder has become an essential production and engineering tool for those involved in broadcast and cinematography, including directors, D.O.P.s, focus pullers, technical directors and engineers. The Stargate provides all the necessary functions in an intuitive interface with top Transvideo accuracy and reliability.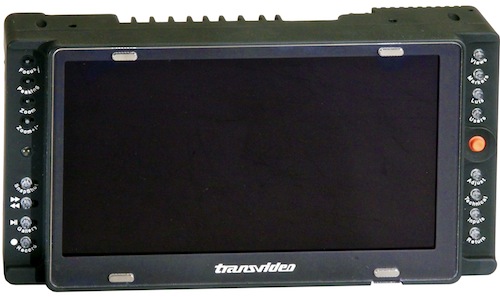 "IMMEDIATE DISPLAY" TECHNOLOgy The Stargate has a fast path processing with a "immediate display' capabilities with no latency. You can get the camera output directly without any introduced delay, increasingly important in many shooting situations
Record: dailies (H264 -> MP4/MKV) on SD cards


3D LUTs

Zoom function: allows zoom, Anamorphic zoom, Custom zoom, Pixel to pixel zoom (1:1)

Tally: is activated through the REC/STOP command embedded in the SDI



Job-oriented views:
pre-programmed modes called 'views', feature a specific set assignment for each job - no need to navigate in deep menus to find the right tools
Focus Helper function: displays in-focus zone with colored dots, making manual focusing easier

Peaking function: emphasizes the contours of the picture, making manual focusing easier.

Markers: can be adjusted by using the joystick to increase or decrease the size, useful if you have a graphics box to work with or you need a reference to frame up on

A FEW SPECIFICATIONS
7" monitor - recorder

Full HD Display 1920x1080

Compatible with 4K - 6G

Brightness : 800 Nits

Fast path with no latency, for specific shootings where no delay is allowable
Record dailies (H264 -> MP4/MKV) in SD cards

Inputs: 1x3G & HD SDI 1xHDMI
Outputs: 1x 3G & HD/SD SDI (processed)
APPLICATIONS
Perfect for Directors, DOPs and Focus Pullers
Every type of production - cinematography, broadcast, documentaries, sport, studio, location, video village…