CINEMONITOR

HD
3DVIEW EVOLUTION
THE NECESSARY S3D TOOLS WITH NO COMPROMISE ON THE RELIABILITY AND THE PICTURE QUALITY
CINEMONITOR

HD
3DVIEW EVOLUTION
NO COMPROMISE ON THE RELIABILITY AND THE PICTURE QUALITY
CINEMONITOR

HD
3DVIEW EVOLUTION
THE NECESSARY S3D TOOLS WITH NO COMPROMISE ON THE RELIABILITY AND THE PICTURE QUALITY
The CineMonitorHD 3DView Evolution is the simplified version of the CineMonitorHD 3DView S. No compromise on the reliability and the picture quality, same resolution, but less functionality and basic features for the tools.
An extension of the CineMonitorHD Evolution, the CineMonitorHD 3DView Evolution is available in 8", 10", 12" and 15". The 3D models include all the functions of their 2D counter parts plus a S3D tools kit. They can also be used for regular 2D HD productions.
10", 12" and 15" models include 2 x SDI inputs + 2 reclock and 2 x HDMI inputs. 8" model include 2 x SDI inputs + 1 reclock. The 3D Single input allows processing of an embedded interleaved 3D signal.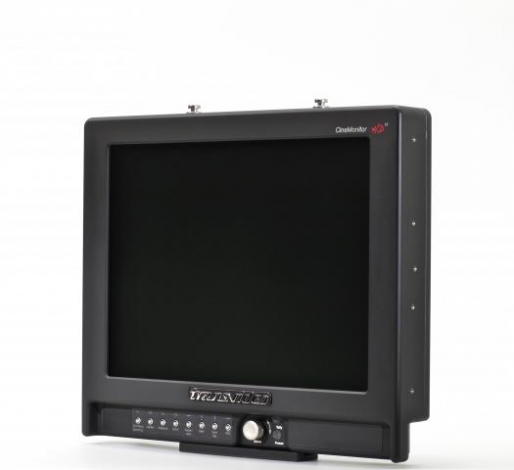 CINEMONITOR

HD

8

3DVIEW EVOLUTION

BACK




FAITHFUL 3D MONITORING

Each camera/eye can be independently monitored as well as flipped vertically and/or horizontally. The measurement tools (waveform & histogram) display the 2 signal simultaneously.



S3D FEATURES
Vertical and horizontal flips
Anaglyph red/cyan
Anaglyph green magenta
Anaglyph blue/yellow
Monochrome
Black and white
Color
Shutter glasses
Derobe's grid
Horizontal shift
Phasemeter

CINEMONITOR
HD
12
3DVIEW EVOLUTION BACK


S3D TOOLS
The cinemonitorhd 3dview evolution includes multiple display modes to evaluate stereoscopic convergences and camera correlation. To use the 3d mode, the 2 signals must be synchronized. a genlock analyzer warns you when the signals are not synchronized.